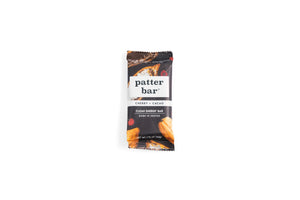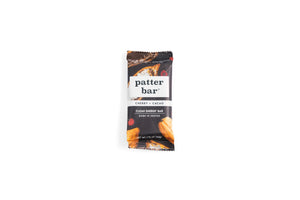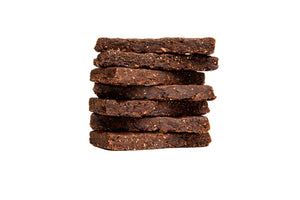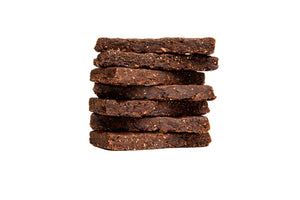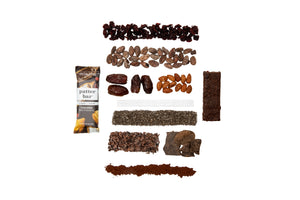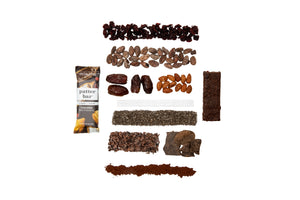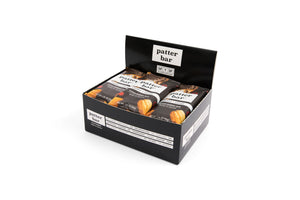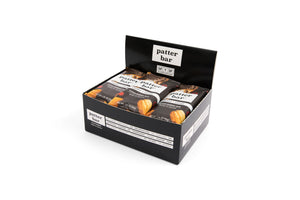 Cherry + Cacao
Organic Medjool dates, unsweetened dried red tart cherries, organic chia seeds, fair trade organic cacao nibs, chocolate liquor (100% ground fair trade cacao nibs), fair trade non-GMO certified cocoa powder (100% ground cocoa), almonds, sea salt.
No added sugar, gluten-free, plant-based, grain free, soy free, dairy free.

2.15 oz per bar
Free shipping when you buy 3 or more boxes
Nutritional Facts
Serving Size 1 bar (50g), Amount Per Serving: Calories 200, Total Fat 8g (10% DV), Saturated Fat 2.5g (13%DV), Trans Fat 0g, Cholesterol 0mg (0% DV), Sodium 30mg (1% DV), Total Carbohydrate 30g (11% DV), Dietary Fiber 5g (14% DV), Sugars 20g, Protein 4g, Calcium (2% DV), Iron (10% DV). Percent Daily Values are based on a 2,000 calorie diet.
Ingredients by order of weight: Organic Medjool dates, unsweetened dried red tart cherries, organic chia seeds, fair trade organic cacao nibs, chocolate liqueur 100% ground fair trade cacao nibs), fair trade non-GMO certified cocoa powder (100% ground cocoa), almonds, sea salt.
Allergens: Contains almonds. 
Made with real fruit. May contain pit or pit fragments.
California Residents: Learn more about Prop 65 Warning.